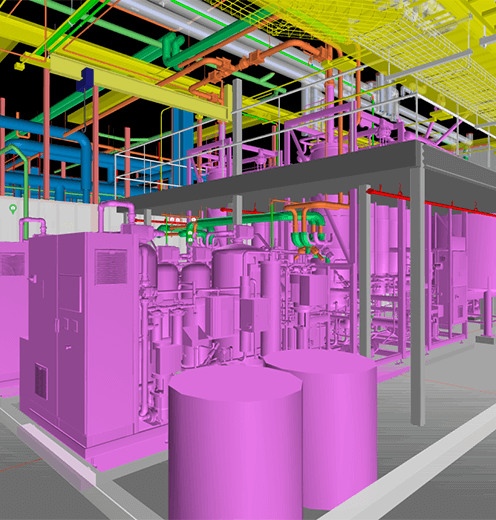 Our in-house VDC Department allows InServ to provide clients with the highest level of quality and accuracy on any project. Through the use of Building Information Modeling (BIM), Virtual Design & Construction (VDC), and other advanced technologies we aim to improve client communication and the planning process. At InServ, we are passionate about the use of technology to improve construction quality.
Our team starts the design-assist process by inputting the piping and instrumentation diagram as well as locations and connections for your specific project. From there we are able to view pipe, conduit, or duct routing with clash detection. This process provides advanced knowledge of the intricacies of your project.
BIM collaboration results in improved project schedules, reduced field conflicts, and less re-work and empowers us with valuable information to quickly identifty potential issues.
BIM collaboration allows for ideas to be shared freely between all teams and helps us to deliver on expectations by including them in the visionary process at the start of any project.
Using technology and digitals tools streamlines processes in the field, boosting efficiency and increasing productivity. It allows design and construction modeling to happen simultaneously.